Secure delivery
If you have a license for the Advanced service, select the Secure Delivery option if you want the e-mail to contain just a link to the received form. This protects the form contents and any file attachments behind an additional login, making the e-mail you receive for the form look like this: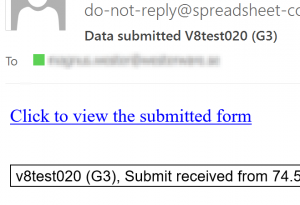 We recommend that you always use Secure Delivery if you allow file attachments for the form. Otherwise, file attachments are included in the e-mail with the completed form, which may cause problems if the files are very large.
"After submit" links
After a form has been submitted, a "Thank you" window is displayed. Like all other standard texts, you can change or translate the text in this window using the Configure Text setting described above.
If you want to provide a full thank-you-page of your own, e.g. to provide conversion tracking, enter its address in the After successful submit field. Click the button to the right of this field to verify that the address is correct; if it is, the page will open in your web browser.

You can also provide your own handling of submissions where our server failed to receive or e-mail you the data. This can only happen when our server is stopped for some reason. The After failed submit link should point to a page that recommends the user to wait for ten minutes and then try again.
If a data entry wizard layout is used for a multi-sheet workbook, you can provide a Cancel button in the wizard that allows the user to leave the form without submitting it. In the After cancel in the wizard field, enter the address of the web page you want the user to arrive at after having pressed Cancel, e.g. a page where you attempt to convince the user to complete the survey anyway.