Cells that may contain both text and numbers
When we designed SpreadsheetConverter we wanted to allow for extremely large spreadsheets, and still provide exceptionally fast response times on slow hardware. This forced us into a few minor compromises, of which one was that if you ever assign a text value to a cell, it is always treated like text. When you reference such a cell in your spreadsheet, it always returns a text string, even if this string only contains numbers.
The cell contents will always be left-aligned, also when the string only contains numbers.
In string comparisons, the operation compares the two strings character for character from left to right, so string values containing numbers may give unexpected results, e.g. '9' > '10' and '09' < '9'.
If you perform numeric operations with string values, the results may be unpredictable.
In spreadsheets that you intend to use with SpreadsheetConverter, you should clearly separate numeric variables from all other variables and never assign them any value that is not numeric.
A formula that returns either text or a number
=IF($E2=0, "Error", ROUND(0.8/$H2,2))
SpreadsheetConverter will see that the formula may return the text Error and internally defines the cell as text, introducing the problems described above. To avoid this from happening, divide the functionality into two cells, one with the numeric value
=ROUND(0.8/$H2,2)
And another with the error indication
=IF($E2=0, "Error", "")
If you really need the error message to appear in the cell, perhaps for a table, you may be able to use a custom number format. A custom number format can have up to four sections of code, separated by semicolons. These code sections define the format for positive numbers, negative numbers, zero values, and text values, in that order.
<POSITIVE>;<NEGATIVE>;<ZERO>;<TEXT>
This allows you to display error messages instead of the cell contents for values that are positive when they shouldn't be, or negative, or zero, or have a string value.
0;"Bad minus";"Bad zero";"Bad text"
The custom cell format above will only display positive numbers. All other values will be displayed as an error message. You define custom cell formats in the Format Cells dialog: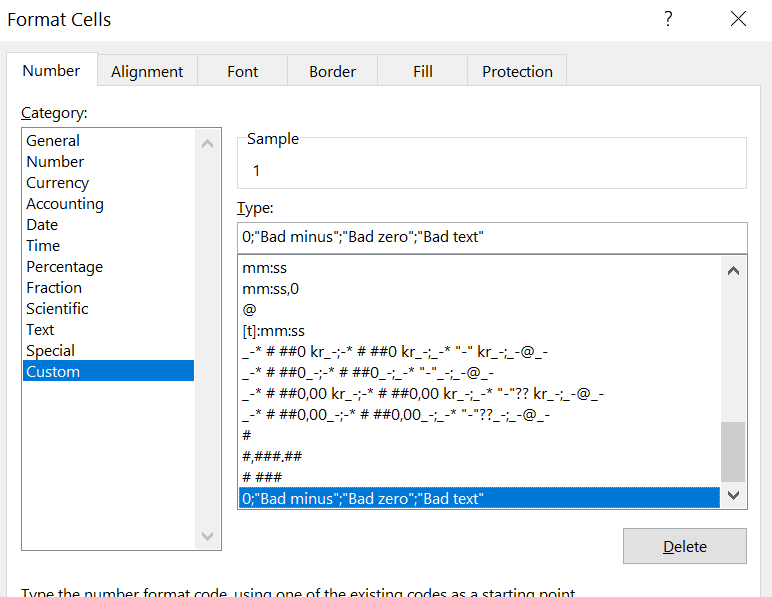 A formula that tests if a numeric cell is empty
When you want to test if a numeric cell has no value, the correct way is to use a formula like
=IF(A1=0,"Empty", A1)
If you haven't assigned any value to A1 yet, the formula above will fail, because SpreadsheetConverter regards empty cells as text strings, i.e. A1="", and so the test will fail because A1<>0.
The obvious circumventions are:
Never use empty numeric cells – always initialize all numeric cells with a default value of 0.
Never use formulas that may assign text strings to numeric cells.
If you really, really must have a cell that contains both text and numbers, a safe test for it being empty is
=IF(OR(TRIM(A1)="",A1=0),"Empty",A1)
Another numerical/character problem that can be really challenging is zero suppression, which just happens to be the next topic.