Customize text
You can translate SpreadsheetConverter to other languages or change the texts it uses with the Customize Texts setting. Select the group in the left-hand pane and edit the texts in the group in the right-hand pane. The new texts will be used for all subsequent conversions, but will not affect already converted web pages.
Read more about translation in the Translation Overview.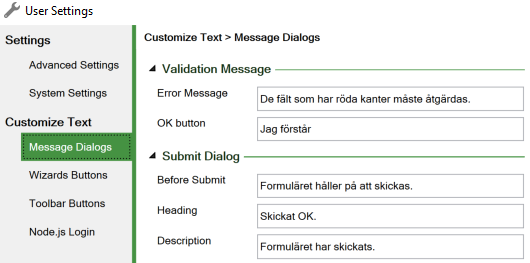 Message dialogs
You can translate all runtime messages generated by the converter.
Validation Message
When the user types something into a form field that does not follow the rules for the field, this error message is displayed.
Submit dialog
These messages are displayed when a form is being submitted.
If you have designated a separate landing page in Configure Submit settings > After successful submit, the After Submit message with its Heading and Description will not appear.
Offline Save
When forms are being submitted offline, they need to be saved to browser storage. These messages appear when this happens.
Offline Submit
When the user comes online again, the offline forms can be delivered to the server, with these messages.
Offline Submit Fail
If the saved forms couldn't be delivered, these messages may appear.
Wizard Buttons
If you have a spreadsheet with more than one worksheet and convert it with a Wizard layout, you get buttons to navigate to the Next and Previous step, and a few other buttons. These can be translated here.
Toolbar Buttons
The buttons in the toolbar can all be translated. The Workbook tab controls which buttons are shown for each calculator or form.
Node.js login
If you use the Node.js Secure Login feature you can customize the login screen here.