Hide background worksheets in the web page
When there's more than one worksheet in your workbook, we automatically hide all but the first during the conversion to a web page. This is because an overwhelming majority of the workbooks with two or more worksheets use only the first worksheets for display – the rest of the worksheets just provide background information for the "front page".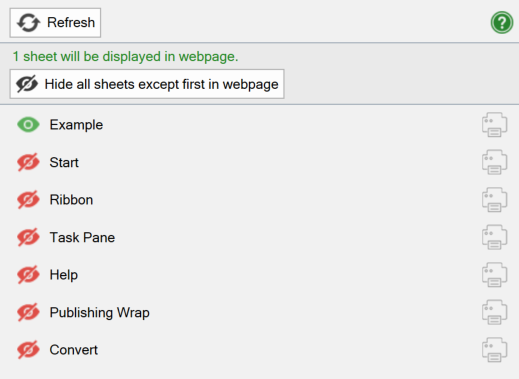 If you want to make more than one worksheet visible in the converted web page, click on the corresponding "eye" symbols in the list so that they turn green before you convert the spreadsheet.
By default, each worksheet appears as a separate tab in the converted web page. SpreadsheetConverter offers various other ways to display multi-section forms and calculators, e.g. as a step-by-step wizard or as sliding panels. Read more about multi-section forms.
If you add a new worksheet to the Excel workbook, it may not be immediately visible in this list, To refresh the list, click on the Refresh button at the top.